Bring SATtalks to Your Community
For those wanting to move beyond simple charity and short-term fixes SAT@Events help you start the journey.  Our experience shows people can chart a new course when they have stories of pioneers, a general framework to work with and a network to keep them connected.  These are things that accelerate our  collective learning and the pace of change.
SAT@Events provide these three essential elements through a smaller one-day version of our annual SATtalks conference done in your community.  It's a mix of local presenters filmed before a live audience, SATtalk videos, group discussions, breakouts and an introduction to the Missions 3.0 Framework.  Hearing the stories of early pioneers and being with like-minded people helps you see what's possible when churches reframe missions and charitable work around sustainable solutions and create room for business-minded people who can help that happen.
Business-Minded People looking for a way to apply their business mind and faith to the work of missions.
 We heard businesspeople talking about different models for missions that I've never thought about before and that's key, because my church is full of wonderful business leaders who want to make a difference.
Mike Pearce | Mission Pastor, Huntsville Baptist Church
Pastors looking for a way to regain cultural credibility and lead their church beyond "helping that hurts."
 The problem with our helping is that we've created such dependencies.  And the thing we are talking about here is how do we begin to move toward creating real world solutions that actually begin helping solve some problems. 
Rick Rusaw | Sr. Pastor, LifeBridge Church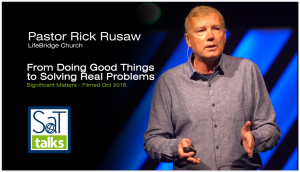 Mission Leaders looking for workable models, practical tools and other like-minded practitioners.
 The value of this was being with other like-minded people who pushed me to think bigger and helped me identify resources for some of the things we've been wrestling with. 
 Lynette Fields | Exec. Dir. of Community Transformation, St Luke's UMC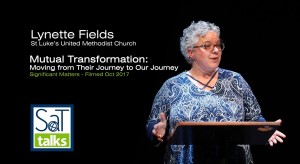 Non-Profit Leaders looking for a place to have real conversations about the hard work on the "front-lines."
 These events let you step away from the daily grind and be with fellow innovators.  It's a forum to share best practices and new ideas on how to equip the church for a new day.  As Missions 3.0 was explained to me, I said, "I want to be part of this because we all need to learn, and we learn best when we learn together."
 Michael Saccocio, Executive Director | City Mission, Schenectady, NY
For more information on bringing a SAT@Event to your community contact Tom Bassford at tom@significantmatters.com