SATtalks 2017 | SAVE THE DATE!
October 19-20, 2017 - Kansas City
Florence Muindi, MD, MPH – Founding President & CEO | Life in Abundance, Intl | Nairobi, Kenya
Partnering with the western church to move beyond relief to sustainable development. 
Dr. Muindi is a native to Kenya, a medical doctor by training and the key architect behind Life In Abundance's (LIA) transformational development model. She has played an integral role in establishing a proven model and track record for LIA while laying the foundation for implementation throughout Africa and the majority world.  She is a graduate of University of Nairobi Medical School (1989) with additional training in Switzerland and Belgium in specialized public health interventions as well as a degree in Urban Poor Theology from Fuller Seminary.
LIA takes an integrated approach to mobilizing the local Church to restore health, renew hope and inspire lasting transformation for the world's most vulnerable families.  They train, equip and walk with local churches throughout Africa and the Caribbean to: Promote Health and Prevent Disease | Empower The Poor with Economic Opportunities | Equip The Vulnerable to Break the Cycle | Educate the Marginalized.  Click here to learn more about Life In Abundance
Phil Hissom – Founder & President | Polis Institute | Orlando, FL
An asset-based approach to community development; doing things with the community not for them.

Phil spent his early career designing solutions to complex social problems around environmental issues.   He also hails from a ministry family that has been laboring with the poor for four generations in Charleston, West Virginia.  Using his back ground in research and design along with a healthy understanding of poverty he decided to turn his attention to addressing concentrated poverty, homelessness, and other affronts to human dignity.
After receiving a Master of Divinity degree in 2008 he founded the POLIS Institute in order to improve the quality of life within Orlando's 100 most distressed neighborhoods.  Working both with leaders outside the neighborhood who want to make a difference as well as those in the neighborhood he is able to add a valuable perspective and champion the importance of human dignity through an inclusive process.   In past and present projects Polis Institute proudly partners with world-class organizations like: Winter Park Health Foundation, Florida Hospital, the University of Virginia, Bags Inc., LIFT Orlando, and the Heart of Florida United Way to identify core problems, discover solutions, and create sustainable programs that work.  Click here to learn more about Polis Institute
Lynette Fields – Executive Director of Missions | St Luke's United Methodist Church | Orlando, FL

Suburban churches working with urban communities to create lasting change one neighborhood at a time!
For 20 years Lynette has served as Executive Director of Missions for St. Luke's United Methodist Church in Orlando, Florida.  Over the course of her career she has worked across a wide range of ages and needs from youth ministry to elder care, from disaster relief to service to the immigrant community.  She received her B.A. in theology from the University of Evansville and Master of Social Work from the University of Michigan.
For the past 5 years Lynette has led St Luke's (a 4,600-member church) through a fundamental shift in the way they do missions. As a church they are walking alongside the residents of East Winter Garden helping them remove obstacles of poverty in order to create a thriving community together. The focus of the work is a combination of asset-based community development, family stabilization, economic development, and improving educational opportunities. It is a model of community development built on long-term commitments, the dignity of reciprocal relationships and the art of working together.  Her and her son, Jonathan, live in Winter Garden where you can often find them riding their bikes and simply being an everyday part of the community they seek to serve.  Click here to learn more about St. Luke's United Methodist Church Missions
Keith Jaspers – Founder & President | The Rainbow Network | Springfield, MO
A holistic model to breaking the cycle of poverty in Nicaragua through Home Ownership, Micro-finance, Health & Education.
Keith Jaspers started Rainbow Network in 1995 with his wife Karen as a way to share the success they had found in life.  He served on the Habitat for Humanity Board with former President Jimmy Carter, Millard Fuller and author Tony Campolo among others.  Using the lessons he had learned from his time with Habitat and the profits from their own hotel business the Jaspers decided to start a ministry where there was a real need and a scarcity of organizations already at work which is how they landed in Nicaragua.  No longer in business, he devotes his full-time effort to the operation and development of the ministry.
The Rainbow Network is an interdenominational Christian Ministry working in rural Nicaragua with about 42,000 people who live in 112 specific geographic communities. Their model involves significant community participation and is led in-country entirely by Nicaraguans.  Their housing program has provided a pathway to homeownership for over 1000 families to date who otherwise were living in mud huts or scrap houses.  Their microfinance program has provided over 75,000 microloans with a repayment rate of over 98% helping families break the cycle of poverty.  Click here to learn more about The Rainbow Network
Christine Baingana – Business Development Director | Hope International | Kigali, Rwanda

Helping families flourish by investing in their dreams through discipleship, training, savings, and small loans.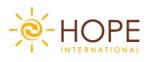 Christine serves as the Business Development Director for HOPE International (HOPE). She graduated with a master's in public administration (MPA) from Harvard's Kennedy School of Government in 2010. Her professional background includes over 20 years of experience providing financial services in the private sector as well as corporate management.  For the past six years she has focused her time and talents in micro-economic development. She is passionate about serving families living in poverty and seeing the church equipped to holistically serve its members.
Charity rarely provides long-term solutions for families living in poverty but often creates dependency and hopelessness.  In contrast HOPE International invests in the dreams of families in the world's underserved communities as they proclaim and live the Gospel.  They come alongside men and women, providing discipleship, biblically based training, a safe place to save, and small loans that empower them to provide for their families and give back to their communities.  The HOPE International network consists of microfinance institutions and savings and credit associations working throughout Africa, Asia, Eastern Europe, and Latin America.  Click here to learn more about Hope International
Lindsey Strickler – Co-Owner | Defenestrate & John McGovern – Founder | Sernomics

Church, Act Like the Church! is the heart cry of millennials looking for a church willing to invest in lasting solutions to help the poor.
John's entrepreneurial journey began in 2010 utilizing skills in engineering, design and technology.  In that short time he's had the opportunity to work across a wide variety of industries including industrial construction, fund management, political consulting, data analytics and retail sales.  He was also part of the group that developed the "1 Million Cups" program for the Kauffman Foundation, a national program designed to educate, engage, and connect entrepreneurs functioning in 77 communities across 35 States.  His business journey is a bit uncommon but not at all unique to a rising number of entrepreneurial millennials who believe that in every problem lies a solution if we choose to find it.
Lindsey spent her college career deeply involved in a college campus ministry and faced a serious decision upon graduation…"Go into full-time ministry or pursue business?"  Coming to the conclusion that the two need not be mutually exclusive and that she could have a greater impact as a business person she chose to pursue an MBA and start a business.  Today she is co-owner of a Denver-based marketing firm that specializes in small and early stage business, and a co-working space catering to men and women who are formidable at what they do. She believes smart, creative businesses will change the world and they need partners willing to work as hard and innovatively as they do.
Tom Bassford – Founder & President | Significant Matters & SATtalks | Olathe, KS

Equipping churches to move their mission's work beyond "helping that hurts" to sustainable transformation.
Tom is the founder and President of Significant Matters, a nonprofit organization working with churches, faith-based groups, community stakeholders and philanthropic organizations to tackle complex societal issues in sustainable ways.   Before founding Significant Matters, he pastored for over 30 years and has been involved in the work of church missions both locally and internationally for over 40 years.
In 2014, under his leadership, Significant Matters lunched SATtalks, a TED talk type of gathering and video website to explore and demonstrate ways to create sustainable transformation through church missions.  They also launched the Missions 3.0 Network for churches wanting to move their mission work beyond "helping that hurts."  SATtalks and Missions 3.0 exists to accelerate the learning curve for the church around sustainable approaches to missions and connect those early pioneers trying to make it happen.  Click here to learn more about Significant Matters